Melview N.S. is working on Year 2 of the Green-Schools Water theme.
To implement this theme and apply for our third Green Flag in March, we are working through 7 steps to help us reduce our water consumption and to raise awareness around water conservation and related topics such as pollution and water treatment.
These steps are:
Forming a Greens-Schools Committee

Conducting an Environmental Review

Developing an Action Plan

Monitoring and Evaluating the programme

Linking the water theme to Curriculum Work

Informing and Involving the school and wider community of progress

Developing a Green Code which is a statement demonstrating our commitment to environmentally friendly action.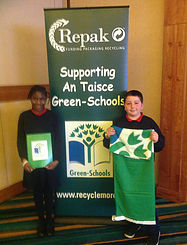 Conor and Chioma collected our first Green Flag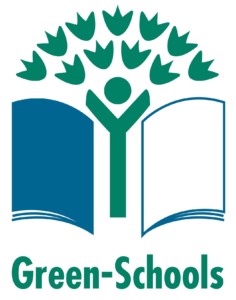 BE WATER SMART – DON'T LET IT GO TO WASTE!
We have already been awarded two Green Flags – for Litter and Waste (2013) and Energy (2015) and have received huge support in doing so from Gary Brady our local Environmental Awareness Officer.
We started our work in earnest in January 2016 when Grace, Sean, Harry and Seyi attended a Green-Schools Water Forum with Ms Hunt in the Abbey Hotel, Roscommon. We participated in different activities to familiarise us with the seven steps and got some good tips for developing our Action Plan. We especially enjoyed designing our Perfect Water School.
In February 2016, children entered a Green-Schools Irish Water 'Be Water Smart' Poster Competition. We were delighted when Rachel Walsh from Senior Infants was announced as the winner in the Eastern/Midlands region in the Junior category. On Wednesday, 4th May, Rachel, along with her friend Daisy, principal, Mrs O'Boyle and Green-Schools Coordinator, Audrey Hunt, attended a ceremony in the Radisson Blu, Golden Lane, Dublin. Rachel was presented with her prizes – an iPad and a mounted and framed copy of her poster. There was a video booth where Rachel and Daisy were recorded describing ways water can be saved at home and in school. There were cameras from RTE and Rachel and her poster featured in the News2Dayprogramme. The slogan on Rachel's poster was – BE WATER SMART – DON'T LET IT GO TO WASTE! We've decided to use it as our Green Code for Water.
On 28th of May 2016, the Longford Leader featured an article on Rachel's big win and also published photos of other children in our school who were presented with prizes by Gary Brady in recognition of their entries which were highly commended: Daisy Barry (Senior Infants); Ciara Brady, Andrew Walsh, Hope Quigley, Lucy Barry (1st Class); Nelly Gijmadeva, Sophie Warnock, Kayla Weir, Aisling Masters, Senan McWeeney (2nd); Faryl Delaney, Grace O'Donnell, Maggie Maguire, Shay Coliier-Hindley (3rd); Rachel Penrose (4th); Ciara Smith, Laura Corcoran (5th); Abigail Rhatigan, Artur Hawrylo, Jill Glennon (6th).
The level of awareness of the importance of water and the need to conserve it was well developed but in September 2016 we got down to the business of reviewing our use of water in schools and developing and action plan to help us achieve two important goals:
To raise awareness of the issue of water conservation

To reduce rate of water consumption by 10% through "low cost" and "no cost" methods (behaviour, leaks & drips, hippo bags) within 12 months of programme implementation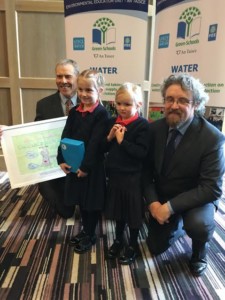 As part of our Environmental Review, senior students had responsibility for carrying out various tasks:
Grace and Oisin (6th) read the water meter daily and recorded the readings.
Millie and Kate (5th) conducted a Water Audit to establish all the ways we use water in Melview and investigate if there were any leaks. With the help of Gary Brady a leak was detected in a staff toilet that was losing a huge amount of water per minute and costing us a substantial amount of money.
Harry, Faryl and Olan (4th) distributed a Water Use at Home Questionnaire/Survey for families to carry out to help us learn more about how water is used in our students' homes and to explore attitudes towards water conservation.
Children from 5th class continue to help us maintain our Litter and Waste Flag by collecting and monitoring waste from junior classes and the staffroom.
Maggie, Leah and Daisy checked to make sure there was general waste, recycling and compost bins in each classroom and that they were properly labelled.
Our two 3rd classes had an effective litter picking rota last term which will now be passed onto 2nd class to ensure our yard stays litter free.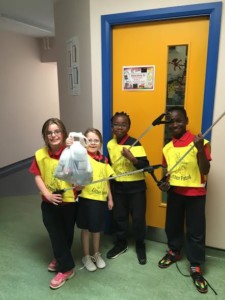 Melview Green School Committee
Children on the Green-Schools Committee take responsibility for a number of jobs:
Litter & Waste Watchers – look out for & pick up litter in school, corridors and yard. Monitor bins to make sure waste is being put in correct bins
Energy Wardens – check that lights are switched off in classrooms and corridors and that classroom & external doors are closed during breaks
Water Squad – make sure taps are turned off and watch out for any leaky taps/toilets
In October, 6th class participated in a Water Quiz. They also enthusiastically created an 'Alien Drama' in small groups, working as TV producers to make a drama of a TV advert aimed at encouraging aliens to visit Planet Earth. However, in the drama, our planet has run out of water so they had to think of novel ways.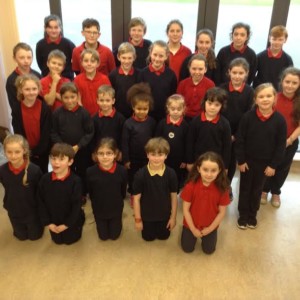 MEMBERS: 
Junior Infants :
 John Fitzpatrick, Maxine Bamidele Akinrinade,Niamh Thompson
Senior Infants :
Michelle Gijmadijeva, Jack Belton, Isobel Bayliss
1st class :
Christian McGerr, Ella Sheridan, Tom Toher
2nd class :
Ciara McGuinness, Adam Dunworth, Roisin Bolger
3 rd class
:Seyi Odukoya,Aaron Gilbert,Clodagh Masterson,Eoghan Connolly,Mikolaj Peplinski,Sophie Warnock,Maria McGlynn,Ruby McDonnell
4 th class :
Harry Lally,Olan Bracken,Faryl Delaney,Maggie Maguire,Daisy Crossan,Leah Gray
5 th class
:Kate Shannon,Millie Murphy,Dylan Swaris,Seán Tiernan
6 th class :
Grace Lyons,Oisín Maguire
OUR RESULTS !!!!!!!!!!!!!!!!!!!!!!
Comparison of  water usage over two periods in school (January – March 2016 & October – December 2016)
Jan – Mar 2016
No of School Days: 49
Consumption in litres: 301,000
Cost: €401.25
23 litres per person per day
3c per person per day
€1.40 per person for 3 month period
Oct – Dec 2016
No of School Days: 54
Consumption in litres: 208,200
Cost: €285.25
14 litres per person per day
2c per person per day
€0.99 per person for 3 month period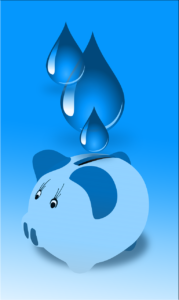 After raising awareness and fixing a major leak there has been a 39% reduction in our water consumption per person per day. When we fit hippo bags and continue to raise awareness this will reduce even more hopefully!
World Water Day 22nd March – Melview Blue Day – Day of Action – assessment visit
Application needs to be submitted by 24th March
Retaining our flags for Litter & Waste and Energy
Send on photos…
Put up Action Plan